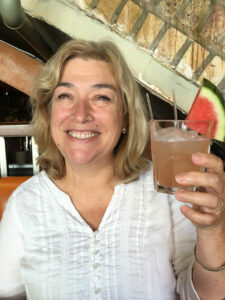 I live in the flat countryside outside Cambridge UK with an academic husband and two dogs. My first book was published in 2014.
I write in two series: the Sister B books and the Vita Carew Mysteries.
A Thin Sharp Blade, the second Vita Carew mystery was shortlisted for the Crime Writers' Association's Debut Dagger (forgive me if I keep mentioning that!). You can read the opening pages here.
Poison at Pemberton Hall, the first Vita Carew mystery was published this November in paperback as well as ebook form.
The third in the series, provisionally titled Death of a Generous Lady, is under way. The research has been hijacked by Buffalo Bill Cody, as I will explain in a blog post soon.